Lincoln County Hospital unit turned expectant mums away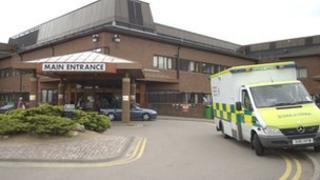 Expectant mothers have regularly been turned away from the maternity unit at Lincoln County Hospital due to a lack of beds or staff, the BBC has learnt.
The wing has been closed to new admissions 12 times in 12 months, a Freedom of Information request by BBC Radio Lincolnshire revealed.
On one occasion the ward was closed to new admissions for 30 hours.
United Lincolnshire Hospitals NHS Trust (ULHT) said it was already working to reduce the number of closures.
A spokesperson for the trust said: "Every maternity unit has an escalation plan for occasions when the unit is full.
"This can unfortunately happen from time to time as it is impossible to predict the exact dates and times at which ladies will require maternity services."
Expectant mothers are diverted to the trust's other two maternity units in the county - Pilgrim Hospital and Grantham.
In comparison, the unit at Pilgrim Hospital, in Boston, has been closed to new admissions twice in the last 12 months.
The unit at Grantham Hospital has remained open over the same period.
Mother Alison Hodson, from Digby, gave birth to her three sons at Lincoln County Hospital.
She said that while the midwives were "incredibly supportive", the staff seemed overstretched when she had her second child - now five, compared to when she had her first who is eight.
"I noticed a big difference in how I was treated," she said.
"Not that I was treated bad, but the time that they have to give. There wasn't as much time."
The Freedom of Information request covers the 12 months ending in January this year.
It revealed the maternity unit in Lincoln was closed eight times due to a lack of beds, for up to 30 hours each time.
Over the same time period it was closed three times due to insufficient medical or midwifery staff, for up to 17 hours.
On one other occasion the unit was shut due to a leak.
The ULHT spokesperson added: "We apologise to any individuals who are affected by maternity units being full and we are currently reviewing our services.
"We introduced a new leadership team for maternity in January and have strengthened the escalation process to reduce the number of closures."