Safety warning after boy falls off Skegness sculpture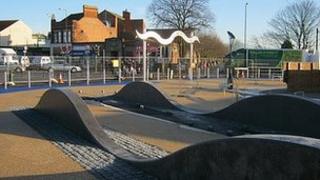 Warning signs are being put up around Skegness Railway Station's newly-modernised plaza to stop people using the sculptures as a "playground".
On Friday, a teenage boy was taken to hospital after he fell while riding his bike along one of the new wave designs.
A cordon was put up over the weekend and East Midlands Trains said it would be putting up signs warning people to stay off the sculptures.
The new plaza is part of £720,000 of improvements which opened in January.
In a statement, a spokesperson from East Midlands Trains said: "Our immediate thoughts are with the boy who has been injured and we wish him all the best for a quick recovery.
"We... have worked to develop a new and welcoming station plaza for Skegness with a design that reflects the local area.
"It is therefore disappointing that some people are misusing the new space and sculptures.
"We will be looking to work with Lincolnshire County Council and Network Rail to identify any opportunities to prevent future misuse of the new plaza."
'Kids' playground'
The project faced criticism because some of the town's oldest buildings had to be demolished.
When the work was completed, John Byford, from the Skegness Civic Society, said: "Skegness has lost so many of its historic buildings it would have been far better to restore what was there.
"I'm not sure if what has been put in its place will grow on me but it looks like an adventure playground - I'm sure the kids will love it."
Temporary signs are up around the plaza warning people to keep off the sculptures. These would be replaced by permanent signs, East Midlands Trains said.
The county council, along with East Midlands Trains, Network Rail and the European Regional Development Fund have jointly backed the scheme, part of a £21m investment in the Boston to Skegness line.