School minibus driver stable after Osgodby crash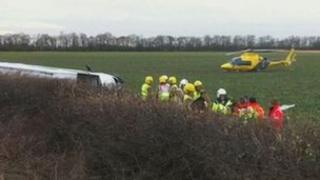 A bus driver who was seriously injured in a crash whilst taking pupils home from a Lincolnshire school remains in a stable condition.
The 55-year-old driver was carrying pupils from Aegir Community Special School in Gainsborough when the accident happened.
The LDV minibus crashed through a hedge and overturned in a field on Top Road near Osgodby at 15:20 GMT on Monday.
None of the seven pupils on board the bus were hurt.
A female carer travelling on the bus was treated at Lincoln County Hospital for a broken collar bone and later discharged.