Junior doctors at Boston's Pilgrim Hospital 'get more support'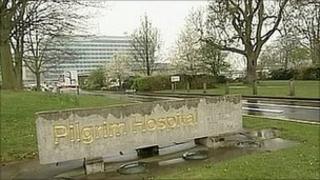 Boston's Pilgrim Hospital has increased supervision for junior doctors after some reported a lack of support from senior staff, particularly at weekends.
The East Midlands Healthcare Workforce Deanery said some students had raised concerns about the availability of consultants on the wards.
The hospital trust said it has now increased the level of senior staff to cover out-of-hours training.
It said changes had also been made to the shift patterns of consultants.
In a statement, United Lincolnshire Hospitals NHS Trust, said it has "a robust action plan in place" and was working closely with the deanery to provide effective training.
The measures follow the return of 80 midwifery students, who were withdrawn from the hospital in July, after criticism from the Care Quality Commission over the learning environment at the hospital.