Girls rescued nine-year-old boy from icy Grantham Canal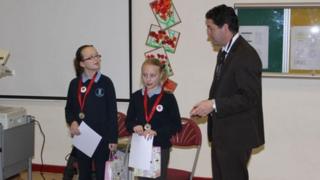 A boy rescued from a canal by two schoolgirls has warned other children not to walk on ice.
Gustavo Alves, nine, said he was grateful to Elisha Raado, 11, and Olivia Parke, 10, for pulling him out.
The girls had previously warned Gustavo not to walk on the frozen Grantham Canal after seeing a school assembly about the dangers only two days before.
Gustavo's head teacher at Isaac Newton Primary School in Grantham said the girls potentially saved his life.
Gustavo, who lives in Grantham, said: "The girls was there and they told me to not go on the canal so I ignored them.
"Then I stepped on the ice and it cracked down and I fell in.
"The water was near my elbow and my shoulder.
"I told them to help me and they did.
"I feel pleased because they helped me out."
Joint effort
Gustavo was walking to school on 2 February when he fell in the canal.
The girls were on their way to Huntingtower Primary School, also in Grantham.
Elisha said: "He stepped on and he just fell through.
"We agreed with each other if we should pull him out or not. We agreed we should and we pulled him out, one arm each."
The boy went to school where he changed into dry clothes.
His head teacher Stephen Tapley said: "When he got to school he was covered in water from head to feet.
"He has got his 5m swimming badge but no more.
"Without their help were are not convinced he would have been able to climb out."
'Very brave'
The girls were invited to Isaac Newton Primary to receive a certificate, medal and a goodie bag.
The girls' head teacher at Huntingtower Primary, Mark Anderson, said: "We are very proud of them.
"We think what they have done is a very brave thing."
If Gustavo saw other children about to walk on icy water he would warn them not to.
"I would tell them to not ignore me because that happened to me before," he said.