Council apologises to Tattershall boy over pirate flag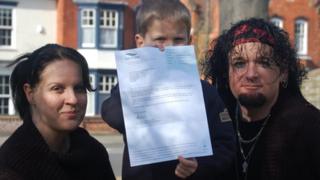 A seven-year-old boy who was told to take down his pirate flag by a Lincolnshire council has received a letter of apology.
Anthony Steele, who has Asperger's syndrome, was told his Jolly Roger breached planning regulations.
East Lindsey District Council said it had acted after a complaint was made about the flag.
However, it has now sent the family an official apology saying no further action would be taken.
In a letter, the authority said it wanted to "take the opportunity to apologise to you formally for the severity of the letter you received in relation to the pirate flag you were flying in the garden for your son, Anthony.
"When we receive a planning related complaint, the council has a duty to write to make those concerned aware, but accept on this occasion our letter was over the top."
The council had previously appealed for the government to review its planning regulations in regard to children's play equipment after the issue first came to light.
Anthony's mother Sara, said she was happy to receive the apology from the council.
Her partner Ronnie Ford-Kennedy said he hoped that in future the council would "sit back and drink a large cup of common sense" before sending letters.