Day care changes agreed by Lincolnshire County Council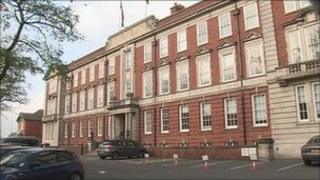 The running of adult day care services will be handed over to the private sector or voluntary groups under plans agreed by Lincolnshire County Council.
The authority said this would save money and was an alternative to closing its 31 day centres.
Councillors also agreed for two respite centres to move into the independent sector, as well as services supporting people to live in their own homes.
Protesters had wanted the services to remain under council control.
'Closely monitoring'
Councillor Graham Marsh, the authority's executive member for adult social care, said groups had already expressed an interest in taking over the centres.
"We expect a number to have their new set-ups in the next six months and them all to be resolved within two years, and we'll keep running them in the meantime," he said.
"Whether each service is run by the same people again or private enterprises, we'll be closely monitoring them to ensure they meet the high standards service users deserve."
Mr Marsh said there had been nine "formal proposals or strong interest" from either staff groups or parent and carer steering groups, with "several other informal expressions of interest too".
The services are used by about 870 people with various levels of physical and learning disabilities, including the elderly.
The changes, agreed by the council's executive, followed a 90-day consultation with staff and the public.
Own homes
But Chris Burke, a councillor for the Labour-led City of Lincoln Council, said he was not reassured the right decision had been made by the Conservative-run county council.
"We would prefer, I think, for these day centres to stay within council control," he said.
A report prepared for the meeting said the council needs to reduce its annual spend due to the government's Comprehensive Spending Review.
The council spends £4.1m a year on day centres but was not yet able to determine how much money will be saved under the changes.
The two respite centres cost £350,000 and £301,648 a year to run, and the council estimates it can save a total of £130,322.
It expects to save £1.03m a year by changing its Community Supported Living service, which supports people to live in their own homes and currently costs £2.9m a year.