Lincolnshire safety group uses phone app in biker campaign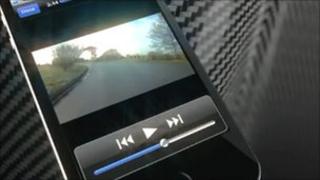 A road safety group is using a smartphone app as part of a campaign to reduce the number of motorcyclists killed on Lincolnshire's roads.
The video tutorials on the iBiker app have been filmed by expert riders from the Lincolnshire Road Safety Partnership.
It features a series of rider's eye-view videos with commentary and information about known blackspots.
The campaign will also feature a new website for bikers.
Partnership spokesman John Siddle said: "Riders will be able to use the website to see maps of known collision points and use the information to make sure they take more care in those areas.
"We are also supporting iBiker, a smartphone app where riders can view the route they are planning to ride and get tips and advice."
Mr Siddle said Operation Octane would target "high end" offenders in a bid to reduce accidents involving motorbikes.
"Lincolnshire is a top destination for bikers, with hundreds visiting the county every weekend and our rural roads seem to attract some high speed issues," he said.
Last year 10 motorcyclists were killed on Lincolnshire's roads.