Boston's Pilgrim Hospital sees student nurse return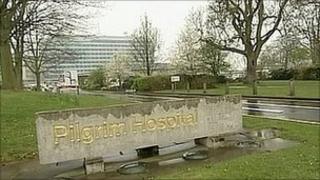 Student nurses have returned to a Lincolnshire hospital after being withdrawn over concerns about the standard of training.
In July 2011, the Nursing and Midwifery Council removed about 100 students from Boston's Pilgrim hospital.
It followed highly critical reports from the Care Quality Commission (CQC) into standards of care.
NHS officials said they had overhauled the training systems and a phased return had already begun.
The decision to withdraw student nurses from Pilgrim hospital was the first time the Nursing and Midwifery Council (NMC) had taken such action.
Appropriate environment
The organisation said the move came after "serious concerns" had been raised.
Last week the CQC published a report showing significant improvements at the site.
The United Lincolnshire Hospitals NHS Trust said new systems had been put in place to monitor the quality of training and a mentoring scheme had been introduced.
NMC acting chief executive and registrar Jackie Smith said: "We are pleased that sufficient progress has been made to begin the phased return of student nurses.
"The student midwives have already started the phased return and this is going well. Our priority continues to be ensuring the learning environment is appropriate for student nurses and midwives."