South Kesteven installs 600 leisure centre solar panels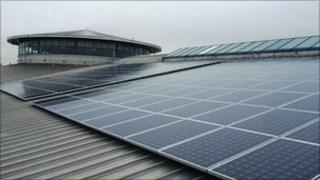 A Lincolnshire council has installed solar panels on three of its leisure centres in a move to save money and reduce its carbon footprint.
South Kesteven District Council said installing solar panels in Grantham, Stamford and Bourne should cut its electricity bill by £12,000 a year.
About 600 panels have been put on to the roofs of three leisure centres and the Bourne Corn Exchange.
The panels should generate an estimated 125,000 kWh of energy a year.
Councillor John Smith, South Kesteven District Council's portfolio holder for healthy environment, said: "The work cost £380,000 which we expect to pay back in less than six years.
"Our investment in solar PV represents a great deal for the council as it provides zero-carbon clean energy as well as making our facilities less vulnerable to future energy price increases."
He added the panels would generate income for the council over the next 25 years from a government scheme in the form of a feed-in tariff.