Lincoln school works with Jon Egging Trust to develop course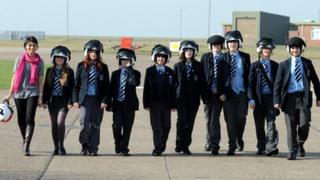 A Lincoln school has been chosen to help develop a new vocational qualification in memory of Red Arrows pilot Jon Egging.
His widow Dr Emma Egging approached The Priory Witham Academy with the idea.
Ten students are currently working with the Jon Egging Trust and personnel from RAF Scampton, RAF Coningsby and RAF Cranwell.
It is hoped that once it has been developed the qualification will be rolled out to schools nationally.
Dr Egging said: "Before the accident, Jon had become passionate about inspiring young people to take control of their lives through sharing his love of flying and his enthusiasm for teamwork.
"The pupils at Witham will be leading the way for the rest of the country."
She said the Blue Skies scheme would help young people learn and develop new abilities relevant to the workplace, including skills in communication, presentation, organisation, teamwork and leadership.
They will do this by taking part in practical exercises in military and civilian flying environments.
'Incredible opportunity'
Nine of the pupils have already visited RAF Scampton, in Lincolnshire, where the Red Arrows are based.
The group watched a practice session and went on a behind-the-scenes tour.
The school's assistant headmaster, John Wiles, is a former RAF serviceman himself.
"This scheme is going to bring out and bring on many of the skills which the children will need in later life," he said.
"It is an incredible opportunity for all of them and we are enormously grateful to the Jon Egging Trust for giving us the chance to take part. I think it is going to make a real difference."
Flt Lt Egging, 33, was killed when his aircraft crashed into a field at the village of Throop, near Bournemouth Airport, on 20 August last year.