Grantham Museum Diamond Jubilee reopening planned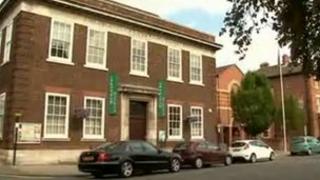 Volunteers are hoping to reopen Grantham Museum in time for the Queen's Diamond Jubilee after officially taking over its running.
The museum closed in March 2011 after Lincolnshire County Council announced it would withdraw funding in June 2010.
Grantham Community Heritage Association (GCHA) has now signed an agreement with the county council to take over the museum.
The association said it hoped to reopen the museum on 2 June.
Richard Davies, from GCHA, said: "We've been very fortunate to enjoy fantastic support from the local community.
"It's taken a lot of wrangling to get there but it's all looking good and we've actually starting opening the museum a little bit now for specific events just to tell people about what we are doing."
He said the association had successfully negotiated the lease of the museum building and had been given charitable status by the Charity Commission.
Volunteers are now being trained up ahead of the reopening of the museum in St Peter's Hill.
Among the attractions on show there is a Baroness Thatcher display, which features a blue suit she wore and one of the original Spitting Image puppets depicting her.