Bowling with cabbages in Lincolnshire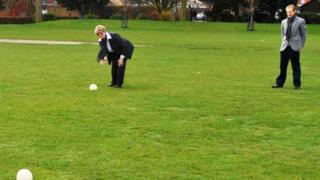 Competitors will bowl cabbages towards sprouts in the championships of a new game created in Lincolnshire.
Named bowling greens, it has been devised to celebrate the Queen's Diamond Jubilee.
The vegetables were chosen because they are typically grown in Lincolnshire, where the fertile soil is ideal for brassicas.
The contest is being held in Central Park, Boston, as part of a jubilee picnic from 10:30 to 16:30 BST.
Boston borough councillor Mark Baker thought of the idea while driving behind a truck of vegetables.
"I was trying to think of something that was typically British or Lincolnshire," he said.
"I think the quirkiness of it could be an attraction. Part of being British is having that Monty Python quirkiness which is quintessentially British."
Normal bowls are designed to travel a curved path because of a weight bias.
Mr Baker said cabbages naturally have this bias because they are cut flat on one side.
Only Lincolnshire cabbages will be used, and the jack will be replaced with a sprout.
The winner will receive the "world champion" title, a trophy and a prize.
World jelly-throwing championships were held at Whaplode Drove Country Fair in Lincolnshire last year.
If bowling greens becomes as popular Mr Baker hopes, the contest will become a regular event.