Iceland home search for lost Chapel St Leonards seal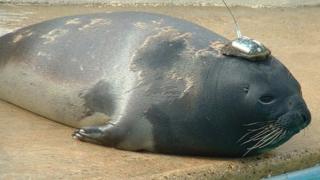 A lost seal which has been rescued twice cannot be released in its natural territory unless a seal sanctuary is found in Iceland.
Eve the seal pup was released from a German seal sanctuary in October but washed ashore at Chapel St Leonards, Lincolnshire, in December.
Staff at Natureland in Skegness want to fly Eve to Iceland but fear she could need help once released.
They have searched for a suitable seal sanctuary but cannot find one.
Cheryl Yeadon, from the rescue centre in Skegness, said: "Our idea was to try and release her somewhere near a rescue sanctuary so if she doesn't make it on her own there would be someone there to help her out."
Mrs Yeadon said Eve had a better chance of survival in the wild near Iceland.
"The fish she will find up there will be more what she is used to and she will need to have her pup on the ice floes," she said.
Eve is thought to have been born last April on ice floes somewhere between Iceland and Canada.
She was underweight when she was first rescued by a seal sanctuary at Friedrichskoog, on the coast of Germany, in August.
Rare UK visitor
The sanctuary named her Eve, fattened her up and fitted her with a tracking device.
The device showed Eve swam to Scotland and the Orkney Islands after her release, and was on course to get to Iceland.
However she turned around and headed for the east coast of England.
Natureland rescued Eve from Chapel St Leonards and discovered she was a hooded seal, which are rare visitors to the UK.
The tracking device has since fallen off Eve's head after she moulted.
Duncan Yeadon, director of Natureland, said they hope to release Eve in May or June.
"Plan B is to get her up to the north of Scotland and head her in the right direction from there," he said.
The centre has so far raised £1,000 towards Eve's release.