Environment Agency warn over spate of oil dumping in Lincolnshire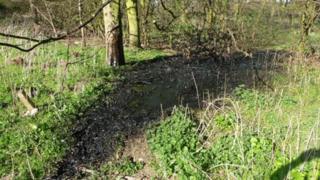 More than 5,000 litres of waste oil has been found dumped at remote locations in Lincolnshire, the Environment Agency has said.
It reported finding 4,000 litres at a site in Green Lane, Middle Rasen, on 23 March.
Two further finds of 1,000 and 500 litres were found near Vulcan Lodge, Scampton and in woods near Cammeringham on Monday.
Officials believe the oil was was transported by tanker.
Environment officer Helen Woodall said: "We are keen to hear from garages and other businesses, which may have been approached by someone offering to collect and dispose of waste oil cheaply.
"Luckily, none of the oil has got into any watercourses, which would have had a greater environmental impact," she added.
The agency warned that anyone found guilty of dumping oil could be fined up to £20,000.