Lincoln's first 'dispersal order' to tackle anti-social behaviour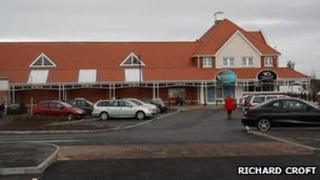 Police can disperse groups of people from a Lincoln shopping centre under new powers granted to tackle anti-social behaviour.
Councils have had the power to grant "dispersal orders" since 2003, but this is the first time one has been introduced in Lincoln.
The dispersal zone affects Birchwood Shopping Centre and the surrounding green spaces, where problems with teenagers have been reported.
The order will run until 19 June.
Simon Colburn, environmental protection and anti-social behaviour manager at the City of Lincoln Council, said: "We've acknowledged that there is a particular problem in this part of the city.
"The council wants to ensure all areas of Lincoln are safe places to live and we will support the police to achieve this."
'Unacceptable' behaviour
Lincolnshire Police applied to the council for the order.
Local inspector for the area, Nikki Mayo, said: "We've tried other policing approaches in this area with limited success.
"This dispersal order will only affect the small number of people who congregate and behave in an entirely unacceptable way."
Critics suggest that dispersal zones can displace crime and anti-social behaviour to neighbouring areas.
Lincolnshire Police has asked residents and businesses to tell them how the scheme works and report any incidents of anti-social behaviour on the non-emergency 101 number.
Under the dispersal order, police officers and PCSOs can disperse groups of two or more people from the area if they are behaving in an anti-social manner.
Anyone who refuses to move can be arrested and then fined up to £2,500 or jailed for up to three months.
Police also have the power to take home any young people under the age of 16 if they are involved in or at risk from anti-social behaviour.
Dispersal orders were made possible under the Anti-social Behaviour Act 2003.