Lincoln County Hospital ward criticised by CQC to close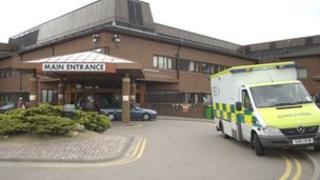 An elderly care ward in a Lincolnshire hospital strongly criticised by health watchdog the Care Quality Commission (CQC) is set to close.
Senior staff at Lincoln County Hospital said Clayton Ward would be closed as part of a "site reconfiguration".
The CQC report published in February identified "shortcomings in patient dignity and staff training".
Tracy Pilcher, deputy director of nursing and patient services, said not as many beds or wards were needed.
In a statement, Ms Pilcher said: "Because we have been improving our services our patients need to spend less time in hospital, than they have done previously.
"This means we do not need as many beds and wards at Lincoln County Hospital. All staff working on the ward will be transferred to other wards and departments across the hospital and no staff will be made redundant."
The CQC's report described one Clayton patient as having been left in a degrading state for half an hour before being cleaned.
Another had been in hospital for two days without being given a care plan.
At the time the CQC inspection was carried out in November 2011, United Lincolnshire Hospitals Trust said a staff shortage was to blame for "unacceptable failings" in Clayton Ward.