Union warns about Lincoln County Hospital ward closure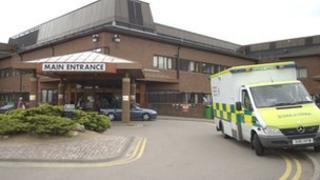 A nursing union has warned that the closure of an elderly care ward at Lincoln County Hospital will put the care of vulnerable patients at risk.
The Clayton ward is being shut after strong criticism in a Care Quality Commission (CQC) report.
The hospital says elderly patients will be cared for on other wards.
But the North Lincolnshire branch of the Royal College of Nursing says redeploying staff will result in a dilution of care and skills.
Branch secretary David Harding-Price said: "It's a team that works together and understands how each member of the team is working.
"Patients will end up in a general ward where they perhaps won't get the same intensive skilled care.
"If you actually need hospital care you need it in a specific environment.
"Why then are we taking a group of people and saying you can now be cared for on a general adult ward?"
Reserve ward
The CQC report, published in February, identified "shortcomings in patient dignity and staff training" on the ward.
However, United Lincolnshire Hospitals Trust (ULHT), which runs the hospital, said the Clayton ward was being closed as part of a long-term project at the hospital.
It said the ward was only chosen because it had the fewest patients on it at the time.
After closure, it will act like a reserve ward which can be brought back into use when needed, the Trust said.
ULHT added that the redeployed staff will continue to work with elderly patients and their skills will be utilised elsewhere in the hospital.