Sleaford Maltings project on hold over road row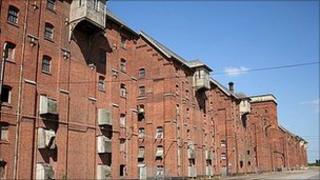 A major Lincolnshire renovation project has been put on hold because of a dispute between councils.
Exactly a year ago, a deal was signed to convert the Bass Maltings site in Sleaford into shops, offices and more than 220 apartments and houses.
But Sleaford Town Council has refused to sell land intended for a vital link road to the area.
In response, North Kesteven District Council has said it will look at a compulsory purchase of the site.
The Maltings, a 13-acre, Grade II*-listed complex, was built in the early 1900s and has been placed on English Heritage's at risk register.
After the agreement was signed with developer Gladedale Estates, work had been due to start in autumn 2011.
'Needs infrastructure'
But the town council said it would not sell Boston Road Recreation Ground because of concerns about closing a level crossing and the loss of trees.
The manager of the major development team in North Kesteven District Council, Phillip Rowson, admitted that while there had been a lot of work going on behind the scenes, the link road was key.
He said: "It needs that expansion, it needs that new road, it needs infrastructure.
"You are dealing with growth, you are dealing with a multimillion-pound development and, not unusually, you need new infrastructure to make the development work properly.
"What we can't have is a series of developments which are going to generate a great deal of traffic, which can't be reached and accessed safely."
The town council said as discussions were continuing about Boston Road Recreation Ground it could not comment at this stage.
North Kesteven District Council said the link road would be discussed at a planning meeting at the end of April.