Brother of delayed cancer-op patient: Hospital must improve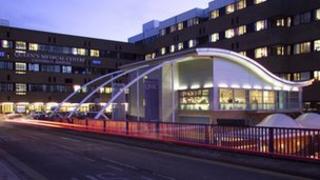 A man who appealed to the health secretary over his sister's cancelled operations said he would continue to campaign over the issue.
Andrew Smith met Andrew Lansley during the minister's visit to Lincolnshire.
Mr Smith was angry after his sister Gillian Moulds, from Grantham, twice had a cancer operation cancelled at Nottingham's Queen's Medical Centre.
She has now been treated but Mr Smith said the hospital, which has cancelled about 600 operations, had to improve.
Trauma centre
Ms Moulds, 47, was diagnosed with liver cancer earlier this year but had surgery called off in March and April.
At the same time, the Queen's Medical Centre (QMC) faced wider criticism for cancelling hundreds of non-emergency operations this year, which it blamed on a surge in emergency cases.
Mr Lansley agreed to meet Mr Smith during a visit to Boston at the end of April.
Mr Smith said he was still not satisfied, despite his sister being treated.
"As far as Gillian is concerned, she is hopefully on the mend, but as far as all the other patients that have been turned away, then no.
"I will fight as much as I can. If I have to go down to London and meet Andrew Lansley again and tell him all the facts and figures I have found, then I will."
He added staff had told him the problems were to do with the QMC becoming a major trauma centre and the hospital "can't cope".
Critical care
Nottingham University Hospitals NHS Trust rejected suggestions this change, or the closing of nearly 100 beds last year, had caused the delays.
A spokesman said: "We're pleased that Ms Moulds' operation has been carried out successfully. We apologise again for the distress and worry caused as a result of the delays.
"Urgent operations such as cancer surgery are our absolute priority. However, a critical care bed is often needed for recovery after such operations - without this, patient safety would be compromised."
"The demand for critical care beds for emergencies or planned operations can fluctuate throughout the year."
After the original meeting between Mr Lansley and Mr Smith, the Department of Health confirmed the minister would look into the case of Ms Moulds but said wider issues of delayed operations were a matter for the local trust.