Discharging of patients 'still a concern' at Lincoln County Hospital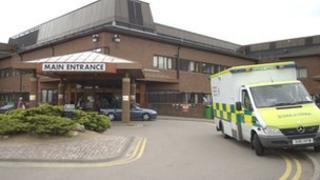 There are still concerns about the way patients are discharged from Lincoln County Hospital, according to a health watchdog.
A new report by the Care Quality Commission said things had not improved since its inspection last year.
Inspectors found one patient was sent to a care home with no medication, while another was not properly dressed.
United Lincolnshire Hospitals NHS Trust said new procedures were in place to improve its work with other agencies.
The latest report by the Care Quality Commission (CQC) was published after visits in January and February 2012.
They were carried out after the hospital was told in 2011 it had to improve after "unacceptable failings" were found.
The CQC said: "We saw evidence of some good discharge planning although some patients experienced poor and uncoordinated care after leaving hospital."
However, the CQC said improvements had been made in other areas including medical records and monitoring staffing levels.
Minor concerns were raised over the hospital's maternity unit, although the department is currently being renovated.
The hospital has been given 14 days in which to respond to the latest findings but said it was pleased the report reflected the progress it had made.