Lincolnshire bus crash rescue pupils praised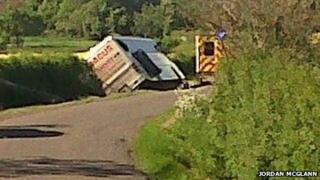 A head teacher has praised three children who rescued fellow pupils from a crashed school bus.
Richard Johnston, principal at the Charles Read Academy, in Corby Glen, Lincolnshire, said he was proud after they freed themselves and pulled the others to safety.
The bus went into a roadside ditch on Humby Road, Ingoldsby, at about 16:15 BST on Friday.
Some of the children were taken to hospital with minor injuries.
Jordan McGlann, 14, was among the children on the bus who helped with the rescue.
"It's gone into this ditch and we've just all gone flying and I've got everyone off the bus," he said.
"I bruised all my ribs and my back and injured my neck.
"I had to smash a window, climb out, rip the bus door open.
"Some of them [the pupils] were crying and some of them were just really shocked. Some of them were bleeding."
Lincolnshire Police is trying to trace a red Mini Cooper car, which may have been involved in the incident but left the scene.
'Flung down stairs'
Jordan took off his top and wrapped it around the bus driver's bleeding arm.
"He just cut all of his arm open because he got flung down the stairs," he said.
"He was more shook up that they'd crashed and some of the kids were hurt."
Mr Johnston said two other pupils - 16-year-old Russell Beck and 15-year-old Jasmine Kelham - helped Jordan to get the pupils out.
The principal said there were about 30 children on the bus, aged between 11 and 16.
One had a close escape after a tree branch broke the window of the bus, he added.
"He's got a scratch on the side of his eye," said Mr Johnston.
"He said he moved to avoid it but 'If I had been bigger it would have gone through my head'."
Mr Johnston said some of the pupils went to accident and emergency in Grantham with injuries including cuts, bruises and whiplash.
One is still having checks at the Queen's Medical Centre in Nottingham.
"Thankfully in this case it isn't worst case scenario and I'm just so happy that... everybody is fine," said Mr Johnston.
"All you want is all your students to be safe but when they step up to the mark it does make you really proud."