Network Rail seeks input on Lincoln footbridge plans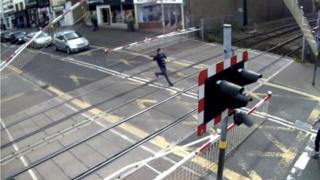 Plans for two footbridges over level crossings in Lincoln have gone on display in the city centre as part of a consultation.
Network Rail said the High Street and Brayford Wharf crossings regularly saw reckless behaviour from those waiting to get through.
The plans were shown to the public near the proposed locations at St Marks and the Waterside.
Feedback was accepted by Network Rail on Friday and Saturday.
Phil Verster, route managing director for London North Eastern, said: "We regularly see people rushing across the level crossings at Lincoln High Street and Brayford Wharf once the warnings have started.
"We even have instances of people lifting the barriers. Clearly this behaviour is highly reckless and dangerous.
"The crossings here are already [of] the highest possible safety design so we needed a pragmatic, joint effort to further reduce the risk of misuse."
He said Network Rail wanted "Lincoln residents, workers, students and visitors" to help to refine the designs.