Grantham Museum reopens in time for Diamond Jubilee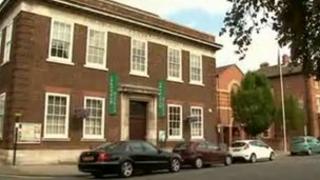 A Lincolnshire museum has reopened in time for the Diamond Jubilee after being closed for more than a year following a funding crisis.
Grantham Museum closed in March 2011 after Lincolnshire County Council said it could no longer afford to fund it.
Grantham Community Heritage Association (GCHA) stepped in to save the museum in St Peter's Hill.
A special two-day festival with a 1950s theme will be held over the weekend to coincide with the Diamond Jubilee.
Volunteer Nigel Booth said celebrations included a 1950s fashion show by students from a local high school, and stalls selling cakes and biscuits that were popular at the time of the Queen's coronation.
There will also be a souvenir stall and children's workshops.
The South Kesteven Amateur Radio Society will operate a radio station from the museum on both days and offering people the chance to send their name in Morse Code.
Among the museum's attractions is a Baroness Thatcher display, which features a blue suit she wore and one of the original Spitting Image puppets depicting her.