Torch relay: Red Arrows to perform Lincoln flypast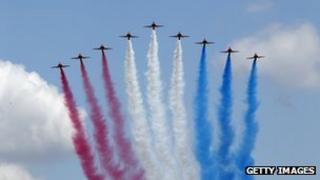 The Red Arrows are to perform a flypast at the Olympic torch relay evening celebration event in Lincoln.
The team, based at RAF Scampton in Lincolnshire, will perform as the torch arrives at Yarborough Sports Ground to light the cauldron on 27 June.
Squadron leader Jim Turner, of the Red Arrows, said the team was "honoured to be representing the Royal Air Force within our home county".
City of Lincoln Council said about 10,000 people were expected to attend.
Mr Turner, Red 1 of the Royal Air Force aerobatic team, said: "My whole squadron, pilots and ground support staff alike, share the pride and privilege of being part of such an auspicious occasion."
Councillor Ric Metcalfe, leader of the City of Lincoln Council, said: "It is a huge honour for us that the Red Arrows have agreed to play a part in this once in a lifetime event.
"The flypast will help bring our evening celebration to a dramatic conclusion as the torch cauldron is lit."
About 100 local musicians, dancers and gymnasts will also perform to music from around the world at the evening celebrations.
Towards the end of the two-hour show, the last torchbearer of the day in Lincoln will light a celebration cauldron on stage.
The Red Arrows will also take part in the London 2012 Olympics' opening ceremony on 27 July.