Lincolnshire's EcoFest bows out after 16 years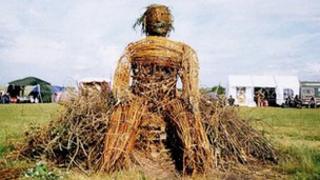 The organisers of a Lincolnshire music festival have said this year's event will be the last.
Susi Mulligan said falling attendances and demands on her time from other projects were behind the decision to bring EcoFest to an end.
This year's festival, taking place on a farm near Louth, features appearances from bands including Merlins Keep, The Validators and Voodoo Children.
About 700 people were expected to attend the two-day event.
Ms Mulligan said she and co-organiser Mel Anderson would continue putting on their other festival, Small World, in August.
She said: "It [Ecofest] grew very quickly and reached a peak about four or five years ago.
"Since then, numbers have been dropping off because of competition from other festivals, the cost of fuel and because people don't have the money. So we found it's not really all that sustainable.
"Also it's the effort of putting on two festivals in the summer, so we're going to try and concentrate on the Small World festival in August instead."