Lincoln Christmas Market charges reviewed by council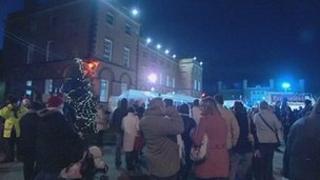 Charges for some stalls at the annual Lincoln Christmas Market could rise after the event made a loss of £113,000 last year.
City of Lincoln Council is to consider increasing stall rental prices in popular visitor areas, while rates in less popular areas could fall.
Traders selling alcohol and food could also be charged more.
The proposals will be discussed at a meeting of the council's executive committee later.
Under recommendations put forward by council officers, the charge for operating a Christmas market stall in the Castle Square area would rise by 11% from £1,080 to £1,200.
Rates for other stalls in areas including The Lawn, Lincoln Suite and Westgate would see a small rise.
However fees for stalls in the Assembly Rooms and Bailgate areas of the city and Fairtrade and craft traders would be reduced.
Any stalls selling alcohol would see an increase in charges, from £95 to £250, and food and corner plot stalls would also see rates significantly rise.
Coach companies could also be charged according to the number of passengers they transport, rather than the existing flat fee of £60 for parking.
Minibuses with seats for between eight and 15 passengers would be charged £25.
Pitch charges for fairground rides in the Westgate area would also rise by 93% from £6,900 to £13,350 while those on The Lawn would be reduced.
Kate Ellis, assistant director at the City of Lincoln Council, said there were various reasons for the extra expense last year.
"One of the reasons for that £100,000 loss is connected to the amount of additional management and staff resource that we needed to put into the market during 2011," she said.
"Also there were some additional increases as a result of the amount of people that we had last year, which was much more than we experienced in previous years."
The city council said the German-style market attracted a record number of people of about 200,000 to up to 300 stalls last year over a three-day period.