Waddington Air Show expecting huge crowd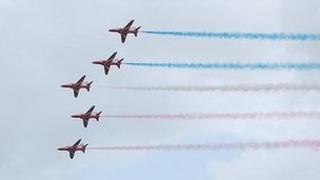 More than 100,000 people are expected to attend an air show, featuring the Red Arrows, in Lincolnshire.
The RAF Waddington International Air Show takes place every year over the first weekend of July and has grown in size since it began in 1995.
The seven-hour flying display includes the Battle of Britain Memorial Flight and the South Korean Black Eagles who have never been seen in the UK before.
All proceeds from the air show go to the RAF and local charities.
Flt Lt Tim Pearson said: "It'll be a nice opportunity to show the Sentry [aircraft] to the people who come to the air show.
"It's a real iconic aeroplane which the ground crew service and work on very hard and keep in the air, which often people don't get to see as close up and personal as they will at the air show."