Boston Standard celebrates 100 years with Queen's best wishes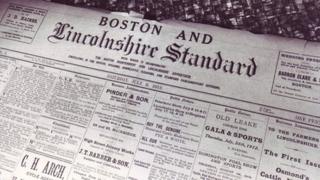 A Lincolnshire newspaper celebrating its centenary has had an anniversary message from Buckingham Palace.
The Queen has sent her "best wishes" to the Boston Standard, which was first printed on Saturday 6 July 1912.
Back then it was called the Boston and Lincolnshire Standard and was managed and run by the Robinson family.
It was mainly text and the first page was dominated by adverts, with no news stories on the front.
The current editor, Stephen Stray, said it had changed since he started 10 years ago.
"We also have our own website these days," he said.
"There are things we can do on the internet, like videos, that we can't put in the paper.
"I think it's ever-changing and it's going to constantly evolve."
Honoured with sausage
As part of the celebrations there will be a charity show at Blackfriars Theatre and Arts Centre, which will raise money for Butterfly Hospice and Blackfriars itself.
A butchers in Boston has also created a sausage recipe in honour of the newspaper.
"I am delighted to be editor of the Boston Standard, my home town newspaper, during this very special occasion," said Mr Stray.
"The publication has touched the lives of so many going back generations and we look forward to doing so in the future."
George Robinson was the editor of the newspaper when it was founded and later became managing director.
The newspaper is now owned by publishing group Johnston Press and is printed in Sheffield.
However, the newspaper used to be printed in Boston itself.
"It all used to be done in the same building," said Mr Stray.
"The reporters were on the top floor and the printing press was underneath. It used to rattle because the printing press was underneath."
The centenary edition features an old-style masthead and a pull-out supplement.