Solar park planning bid submitted for site in Croft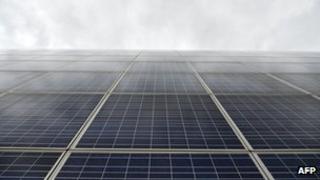 A new 55-acre (22 hectare) solar park could be built in Lincolnshire after a bid was submitted to a local authority.
A renewable energy company has applied to East Lindsey District Council for permission to build on land in Croft, near Skegness.
If it is approved the facility could be running by the end of the year.
The company Juwi said the 42,000 solar panels in the park would generate enough electricity to meet the demands of up to 3,000 homes.
'Could be met'
Jan Sisson, UK managing director of Juwi, said: "The amount of sunlight falling on Lincolnshire is better than most people think.
"Somewhere in the range of 1,800 to 3,000 homes' annual electricity requirements could be met by the solar park."
In February, East Lindsey District Council began installing solar panels on some of its buildings in a bid to cut energy costs and offset its CO2 emissions.
The authority estimated the move would reduce its energy bill by more than £1.5m over the next 25 years.