Donna Nook wetland flooding work begins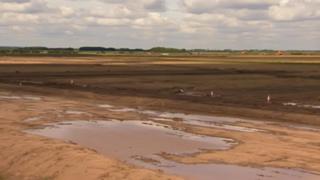 Work has begun on a controversial scheme to flood 321 acres of farmland in Lincolnshire.
The Environment Agency wants to allow the sea into Donna Nook, North Somercotes, as replacement wetland for habitats lost to flood defences nearby.
It estimates the scheme will also offer flood protection for 23,000 properties in the area.
But some farmers have branded the scheme "irresponsible" and believe the land should be used to grow crops.
The Environment Agency said it was obliged to replace wetland habitat lost to the wider Humber estuary flood defence programme.
Mike Dugher, from the agency, said: "It's vitally important that we continue to invest in sea defences to protect and reduce the risk of flooding to good quality agricultural land.
"If the land here was to be affected by tidal flooding it would take many years before it could be used for food production again."
But farmer Alwyn Drury said the land was some of the most fertile in the country and should be treasured.
"Food security is going to be one of the biggest issues in this world - this is a perfect storm happening on our land, here and now," he said.
Colin Davie, from Lincolnshire County Council, said: "I've a great deal of sympathy with the farmers - agricultural land is of huge significance for Lincolnshire.
"However, the protection of people and communities is also vital and there has to be a balance."
The farmland is owned by the Environment Agency.