Family of geese saved from cull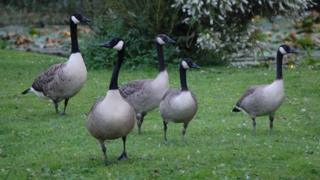 A family of geese due to be culled because they were fouling in a private residential road have been saved.
The Canada Geese, living in the private Meadowlake Close, Lincoln, were under threat because their mess was deemed to pose a health risk.
The cull initiated by the street's management company was put on hold after a resident described it as cruel.
Four of the five geese were rehomed on Monday and the remaining one was caught earlier.
Les Overton helped catch the birds together with friends and family.
They will now live on a plantation in Caythorpe, Lincolnshire, owned by a bird lover who keeps hundreds of birds and does not want to be named.
"They are nice and safe and sound there," Mr Overton said.
"I moved in in February and I thought it wasn't very nice to kill them. It was just a bit silly when in a few weeks' time they would have flown away anyway."
The geese were living around a large pond in the street.
Jim Keeble, resident and director of the company that manages the private street, said geese had been a problem there since 2006.
"The fouling at times can be pretty horrendous," he said.
Residents received letters from the city council instructing them to stop feeding the geese, but Mr Keeble said the feeding and fouling continued.
After hearing about the latest planned cull, wildlife management consultant Dr Jayne Cuthbert advised Mr Keeble that the geese droppings were not a risk to public health, and therefore the licence he had obtained to cull the geese was not valid.
Mr Keeble said he plans to hold a meeting in two or three weeks where residents will decide how to tackle geese in future.