Wedding car owner offers reward to catch arsonist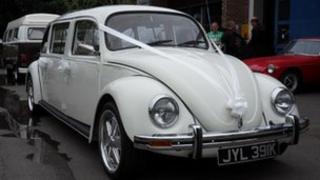 A Lincolnshire garage owner has offered a £1,000 reward to catch an arsonist who set a wedding car on fire.
The 1972 Volkswagen Beetle stretch limo was parked outside Revesby Garage, in Revesby, when somebody set it alight in the early hours of Friday morning.
The blaze badly damaged the car, which had recently been restored, as well as vehicles parked on either side of it.
Garage owner Cav Taylor said he was "heartbroken" and offered a reward for information leading to a conviction.
'Horrible deed'
He said: "We spent considerable time and effort building it up - about seven months with me and all the other lads from the workshop, often working seven days a week.
"We had it parked outside so everyone could see it and then someone has come along and set it on fire."
Mr Taylor said CCTV footage suggested a canvas section of the limo's roof had been pulled up with something flammable put inside and set on fire.
The limo had been booked for a wedding the day after the blaze and the garage owner said he felt devastated for the couple.
He said: "I can't understand why anyone would be so horrible as to do this. It's heartbreaking, really."
Lincolnshire Police has appealed for witnesses.