Jamie Rawson jailed for ice pick killing of love rival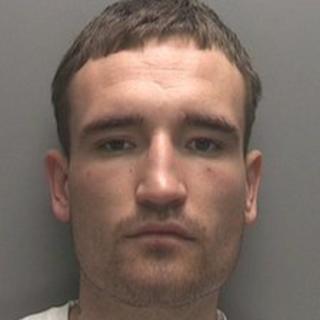 A Lincolnshire man has been jailed for nine-and-a-half years for killing a love rival with an ice pick.
Jamie Rawson, 22, pleaded guilty to the manslaughter of Peter Schruyers, 31, who was attacked at a flat in Wainfleet Road, Skegness last August.
Rawson's plea, on the basis that he had lost control, was accepted by the prosecution at Lincoln Crown Court last month.
He had previously denied a charge of murder.
Gorden Aspden, prosecuting, said both men had done the "dirty" on each other, and Mr Schruyers suspected Mr Rawson was working his way through his ex-girlfriends.
'Raging angry'
After a series of phone calls Mr Schruyers set out to confront Mr Rawson at a flat in Wainfleet Road, Skegness.
Mr Schruyers, who came armed with a rounders bat and had brought a friend as back-up, tried to force his way into the property but was attacked by Mr Rawson who struck him with the ice pick.
One of the three blows penetrated Mr Schruyers' skull and he never recovered consciousness. He died in hospital five days later.
Judge Michael Heath, passing sentence, said "Peter Schruyers and Jamie Rawson had been good friends but they fell out over girls.
"It is quite clear to me that Peter Schruyers went to the flat with the intention of giving Jamie Rawson a serious beating and inflicting serious injury.
"I am sure that it was only when Rawson realised that Peter Schruyers was on the scene with intent of doing him physical injury that he armed himself with the ice pick."
Shaun Smith QC, defending, said: "Rawson and Mr Schruyers were best friends and had been for two years prior to what happened."
He described Schruyers as "raging angry" and said that Rawson was in fear when he realised his rival was armed.
Rawson was jailed for eight years and given an 18 month consecutive sentence after admitting separate charges of assault and theft.