No return home for families after Fillingham gas leak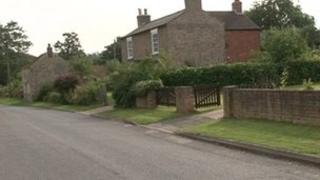 Families in a Lincolnshire village are spending another night away from their homes following a major gas leak.
Lincolnshire Police were called to Fillingham, near Gainsborough, at 18:45 BST on Wednesday after a gas main was damaged by farming equipment.
Four families were moved and a 600m exclusion zone was put in place by the fire brigade.
National Grid engineers are working to make the gas main safe. It is not known when the people can return.
The village hall is being used as an emergency information point.
Resident Terry Burgess said the sound from the ruptured pipe was like a Hawk Trainer jet engine.
Sleeping children
Georgia Butterworth, who lives in Fillingham and is part of a family of seven, said she was shocked to hear what had happened.
"We had to lift all the children out of their beds and go to the village hall which was where we stayed for a while," said Mrs Butterworth.
"But it obviously wasn't going to be for a quick return so I quickly phoned my mum in Lincoln and we all descended on her."
Insp Paul Stubbs, from Lincolnshire Police, said it was not clear exactly when the families would be able to return to their homes.
Road diversions around the village have been put in place and the village hall is being used as an emergency information centre.