Fillingham gas leak evacuees set to return home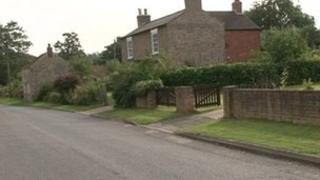 A gas leak in a Lincolnshire village which forced several families to spend two nights away from home has been fixed.
Lincolnshire Police were called to Fillingham, near Gainsborough, at 18:45 BST on Wednesday after a gas main was damaged.
Residents from 12 properties were moved and a 650-yard (600m) exclusion zone was put in place by the fire brigade.
National Grid said residents would now be able to return to their homes.
Insp Paul Stubbs, from Lincolnshire Police, said: "At about 03:15 BST National Grid confirmed it had manage to cap the gas leak.
"National Grid wants to inform residents themselves and will wait until an appropriate time to call them but, essentially, it's a return to normality."
The exclusion zone was lifted early on Friday and road diversions were removed.
On Wednesday night, 17 people had to find emergency accommodation after the gas main was fractured in a field.
Resident Terry Burgess described the sound from the ruptured pipe as "like a Hawk Trainer jet engine".
Georgia Butterworth, a mother of four who lives in Fillingham, said: "We had to lift all the children out of their beds and go to the village hall which was where we stayed for a while.
"But it obviously wasn't going to be for a quick return so I quickly phoned my mum in Lincoln and we all descended on her."