Spalding's Red Lion Quarter: Sage Restaurant closure 'disappointing'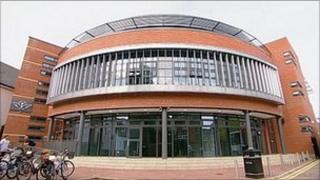 The closure of a flagship restaurant at a centre built to promote Lincolnshire food is "hugely disappointing", a Spalding business leader has said.
A Boston College spokesman said the Sage Restaurant, located in Spalding's Red Lion Quarter, was not commercially viable.
The college will still run food-related courses at the centre.
Chamber of Commerce chairman Phil Scarlett said parts of the Red Lion Quarter were "looking very sad".
Boston College recently bought the Red Lion Quarter from South Holland District Council for £2.4m.
'Wipe away dereliction'
The centre will now be used for office accommodation, training and business start-ups.
A food hall at the centre, which was opened in 2011, was closed six months ago also because of poor sales.
Boston College principal Amanda Mosek said: "It is disappointing but it is not the end of the road completely because the restaurant will still be open for private functions and business breakfasts.
"We are in talks with various people to see if we can keep it open on a more regular basis."
Mr Scarlett said: "If I had invested a substantial amount of money - I am told it was in excess of £500,000 - in a state-of-the-art kitchen then I would have given it a bit more time and I would have worked a bit harder to make it work.
"We are hugely disappointed with the closure just 18 months after it opened and this follows the closure of the food court six months ago."
The deputy leader of South Holland District Council, Nick Worth, said the sale of the centre to Boston College will mean more jobs and training in the town.
"The original vision for the Red Lion Quarter, to provide jobs, business, training and education in the heart of the town and wipe away the dereliction of the past, is being realised."
The centre was built in 2011 at a cost of £6.5m.