University of Lincoln Brayford Campus plans detailed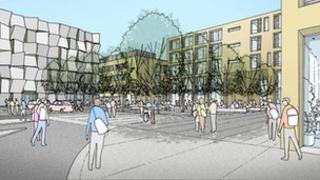 The University of Lincoln has unveiled plans to develop its Brayford Pool campus over the next decade.
The proposals include doubling the size of its library and the creation of a new multi-storey car park, shops, student accommodation and a hotel.
Work has already started on building a new School of Art and Design at the campus.
The outline planning application will now be considered by City of Lincoln Council.
The university said a key element of the plan, developed by architects Allies and Morrison, would be to improve access to the campus for pedestrian and cyclists arriving from the city centre.
John Plumridge, the university's director of estates, said: "With new academic buildings we can continue to advance our teaching and research.
"Additional office space will enable us to house spin-out businesses and enhance our collaboration with existing companies.
"New accommodation, shops, cafes and restaurants would complement the mix of amenities which residents and tourists can choose from in the Brayford Pool area."