Plans approved for a £150,000 skate park in Stamford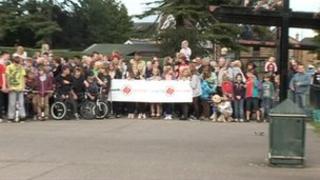 Plans for a skate park in Lincolnshire have been approved by South Kesteven District council.
The Stamford Skatepark Group said it had raised £150,000 over about four years from lottery grants and local associations.
The group were concerned their plans would be rejected on the grounds of noise as some residents had objected.
It said it had invested several thousand pounds into acoustic engineers who surveyed the site.
Stamford Town Council lodged the planning application in February.
'Extreme sports'
Colin Furze from the group said: "The old skate park that was here for seven years was fairly trouble free, made of wood, and was a lot noisier.
"We're going to build a concrete one and sink it into the ground. All these things help make it much quieter."
The group said earlier this month up to 300 people turned out to march in favour of the park.
Mr Furze said: "If you don't have a skate park they're up the high street jumping off benches, hanging around outside shops, and that's more of a nuisance.
"Every town needs a skate park... Extreme sports is what kids do nowadays."