New Boston bowstring footbridge plans lodged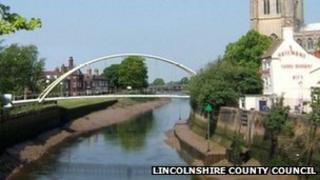 A planning application for a modern bowstring bridge across the River Haven in Boston has been submitted.
Lincolnshire County Council lodged proposals for the £600,000 crossing which would replace St Botolph's Bridge near Boston Stump.
In a public consultation the design beat competition from a lower arch bridge and a more traditional concept.
The authority said the structure would be more suitable for wheelchair users and work could start by December 2013.
David Walton, from Lincolnshire County Council, said: "We did offer a traditional bridge, with brick and a cast iron parapet, at the consultation, but the favoured solution was the bowstring arch and everybody seems to have taken to it."
The application has been submitted to the planning department at the same authority. Boston Borough Council was also consulted on the plans.
If the project is approved by the authority it will then go to Eric Pickles, the Secretary of State for Communities and Local Government, for approval as Boston Stump is a conservation area.
The 35m (115ft) long bridge with a 15m (49ft) ramp will be jointly funded by the county council and a European Union grant.