Mullany Mills inquest: Grandmother and boy drowned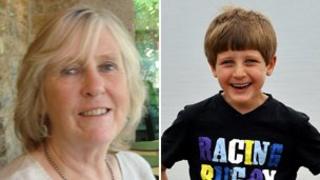 A coroner examining the deaths of a six-year-old and his grandmother who drowned in a Lincolnshire lake said he cannot establish "exactly what happened".
The bodies of Dawn Mullany, 71, and Laurence Mullany Mills, 6 were found at Holywell near Stamford in February.
Coroner Professor Robert Forrest said there were no suspicious circumstances, and recorded a narrative verdict.
Police said evidence suggested the pair had been feeding the ducks.
Mr Forrest said: "It was a tragedy, but I cannot say exactly what happened. It's not my job to speculate."
The inquest heard the family raised the alarm at around 21:30 GMT on 16 February after they were unable to contact Mrs Mullany and Laurence .
Laurence who was from Ketton had stayed overnight with his grandmother in Castle Bytham the previous evening.
'Tragic accident'
Police found Mrs Mullany's car near the lake in Holywell village and a short time later her body was discovered.
Just before 04:00 GMT the following morning Laurence's body was also found in the water.
Police enquiries and a post-mortem examination were carried out and there were found to be no suspicious circumstances.
Det Ch Insp David Wood said that evidence suggested Mrs Mullany and Laurence had gone to the lake to feed the ducks as a bag of breadcrumbs was found nearby.
In a statement, the family said: "We have known for some time what the inquest would and would not be able to tell us.
"We will never exactly know what happened that day, other than a tragic accident that's taken away two wonderful people and beloved pillars of our family.
"Now we have to continue with the long and difficult journey that is rebuilding our lives with the support of our family and friends and the loving memory of our years spent with Dawn and Laurie."