Mervyn Barrett contacts police over PCC campaign manager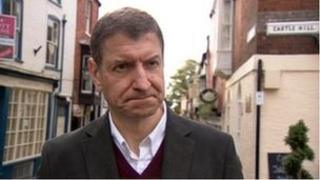 A former police and crime commissioner candidate has complained to police about his ex-campaign manager.
Mervyn Barrett withdrew from the election in Lincolnshire, after the resignation of the campaign manager.
Lincolnshire Police said Mr Barrett contacted them over "concerns [about] the conduct" of the man, who has called himself Matthew de Unger Brown.
The ex-campaign manager said allegations "do not fully reflect the reality or sequence of events".
A police spokesman said: "Lincolnshire Police can confirm that former PCC candidate Mervyn Barrett has contacted us about his concerns surrounding the conduct of his former campaign manager.
'Unfair to continue'
"We are now in the process of deciding which is the appropriate force to investigate the matter, ourselves or the Metropolitan Police."
Mr Barrett, who withdrew his candidacy on Wednesday, worked for crime reduction charity Nacro for more than 30 years and was made an OBE in 1999 for services to crime reduction.
His campaign was led by Mr de Unger Brown who, within the last week, claimed to the media he worked for an American right wing lobbying organisation.
On Monday, he told the BBC he was responsible for the European operations of the organisation and said the organisation supported greater involvement of the private and third sectors in policing.
He said he had resigned on the evening of 19 October because of a story about him that was due to be published.
"When the campaign team becomes the story it is not fair to the candidate to continue," the former campaign manager said.
"I would not want to, in any way, shape or form, be the person responsible for potentially damaging my candidate's campaign."
'Embarrassing deception'
He claimed to have used his contacts to secure donations for Mr Barrett "from a wide variety of people and companies, both in Lincolnshire and elsewhere".
But in a statement published on a website on Wednesday, Mr Barrett said he had been the victim of "a bizarre and hugely embarrassing deception".
Mr Barrett said he had "been honest and genuine in my intentions at every stage" and said he had been "bewildered" by an "avalanche of revelations" over the past 24 hours.
Speaking to the BBC, Mr Barrett said: "I'm having to accept that my reputation is in ruin. I once had a reputation for integrity, for competence, and this has been seriously undermined.
"My motives for entering the contest in the first place were entirely pure."
In a statement on Thursday, the former campaign manager said: "I have read with great interest the statement of Mervyn Barrett and the resulting press and public comment.
"I am in the process of consulting with my lawyers and do not intend to make any further public comment at this stage other than to say that I will vigorously defend myself against these allegations which do not fully reflect the reality or sequence of events."
The remaining candidates standing for election in Lincolnshire on 15 November are Richard Davies for the Conservatives; Paul Gleeson for Labour; independent candidate David Bowles and independent Alan Hardwick.