Aviemore Sled Dog Rally: Pete Jones bids for fourth consecutive title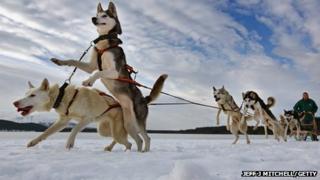 A husky racer is bidding for his fourth consecutive win at the annual Aviemore Sled Dog Race.
Pete Jones, from Market Rasen in Lincolnshire, has won the six-dog class at the event for the past three years.
He said he was looking forward to defending his title on the "gruelling course" on tracks around Loch Morlich in the Cairngorms National Park.
This year's event celebrates the 30th anniversary of its organisers - the Siberian Husky Club of Great Britain.
The recent snow has also meant the race should be run using traditional sleds - instead of three-wheeled rigs - for only the second time in the past 20 years.
He said: "The first time I won the event it was on snow - it's really different and so fast.
"I had such an adrenaline rush, it was amazing to do it as it should be done."
The race features teams of between two and eight dogs pulling their musher on a sled around a four to seven-mile trail.
Along with the Siberian Huskies, race dogs include Alaskan Malamutes, Samoyeds, Greenland Dogs and Canadian Eskimo Dogs.
The event finishes on Sunday.