Lincolnshire flooding: River levels continue to be "monitored"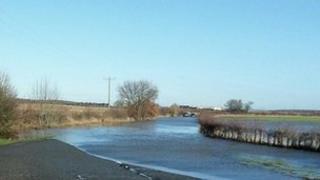 The Environment Agency has advised motorists to take care as it continues to monitor rising river levels affected by melting snow and ice.
River levels in Louth were the highest since the 2007 floods, and sandbags have been issued to those living along the River Lud.
Andy Wilkinson, from the Environment Agency, said he was "keeping an eye on the River Glen".
Flood warnings are expected to remain in place for several days.
Mr Wilkinson said: "It's a little more tricky when it's snow melt involved as well… but so far 20 flood alerts and three flood warnings have been actually issued for Lincolnshire, and we've taken most of those off.
"I think half of those flood alerts will come off throughout the course of the day."
The Environment Agency said that during periods of high tide, high river levels would be unable to discharge into the sea, which was likely to lead to localised flooding at Surfleet reservoir.
Other flood warnings included the River Soar at Zouch, Kegworth Bridge and Redhill.