Lincolnshire police commissioners plans to increase police tax by 2%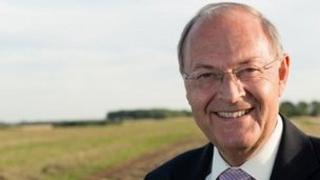 Lincolnshire's police commissioner is proposing a 2% increase in council tax to maintain policing numbers in the county's force.
Alan Hardwick said the increase in the tax precept will mean an average increase of about 6p a week for most residents.
He said the move would prevent cuts to the county's 1,100-strong police force.
The tax increase and other proposals will be presented to the county's police and crime panel on 7 February.
Uniform decision
Mr Hardwick also said he wants to introduce more volunteer Police Community Support Officers (PCSOs) to the force along with more special constables.
He has also called for all police officers to wear uniforms while on duty and for all police vehicles involved in frontline policing to be clearly marked.
He said: "I can achieve all this against a background of continuing government austerity because I have carried out a thorough and far reaching review of expenditure that has involved every aspect of the way in which we police the county."
The final police budget will be set by the end of February.
Mr Hardwick was elected as the new PCC in November to set priorities for Lincolnshire Police and oversee its budget.