Lincoln Christmas market: One-way system 'not ruled out'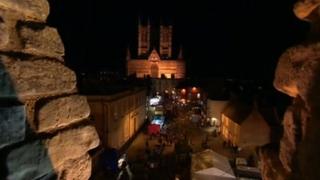 The City of Lincoln Council said it may reinstate a one-way system during the city's next annual Christmas market, despite complaints from local traders.
The authority introduced the temporary system in 2012 after 350,000 people attended the German-style market in 2011, sparking safety fears.
Businesses claim they lost money during the four-day event because of the move.
Traders said the system needed to be more flexible and only used during busy periods.
The city council said it had introduced the one-way system because of overcrowding at previous events.
'Making it safe'
John Latham, from the council, said: "We are not ruling it out and we are not ruling it in - at this stage no decision has been made.
"But, if a one-way system is part of making sure it is safe then we will use it appropriately."
Mark Hollingworth of the Bailgate Area Guild, which represents retailers in the area, said it was important for businesses to have a say in the decision making and a say in how they are affected by the market.
One trader said she relied on the market for her income.
Jennifer Geach, who runs C'est Chic Boutique, said: "Our takings were not even close to what we did the year before - the first night then [in 2011] we did about £1,000 - this year we did £25.
Others reported a fall in takings of about 30% on previous years.