Mablethorpe memorial for 1953 flood victims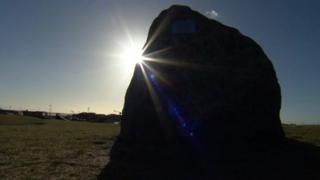 A memorial to 42 victims of the Great Flood of 1953 has been unveiled in the Lincolnshire resort of Mablethorpe.
The tribute marks the 60th anniversary of the flood, which devastated many communities living on the east coast.
The North Sea flooding claimed a total of 307 lives across England - and damaged 24,000 homes.
The town's former mayor Helen Parkhurst, who helped raise funds for the memorial, said "It will act as a reminder of that terrible day."
'Community spirit'
She said: "It's an active part of our history - it's to educate the youngsters here - and I think we need to take that onboard and learn."
The town's current mayor, Joyce Taylor, led a church service to remember the victims.
She said it was important to remember not only those who lost their lives "on that tragic night" - but the "brave people, who, regardless of their own safety, risked everything to save neighbours and friends".
She added: "The same community spirit that was shown that night is still with us - and I'm very proud of this community."
The leader of East Lindsey District Council, Councillor Doreen Stephenson, said: "Although 60 years have passed, it is important we remember that flood risk is still an issue we face.
"We must ensure we're all prepared should sea waters breach our defences again in such a way."
The Environment Agency said that, despite major improvements to sea defences and warning systems, 1.3m people, or one in 25 homes in England and Wales, remained at risk of coastal flooding.
The memorial is located by the skate park on North Promenade.