Margaret Thatcher statue 'offered to Grantham'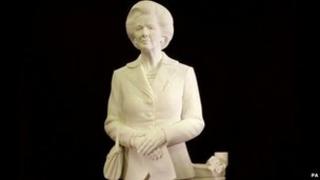 A Margaret Thatcher statue which was once decapitated by an attacker has been offered to Grantham Museum.
The white marble statue was unveiled by the former prime minister in 2002, but later attacked and eventually restored.
Jayne Robb, manager of Grantham Museum, said a decision has not yet been made about the offer.
Grantham Labour councillor Charmaine Morgan said the statute might be open to more attacks if it was erected in the former PM's home town.
'Asking for trouble'
The statue was attacked with a metal pole at Guildhall Art Gallery by a theatre producer, but later restored at cost of £3,000 and put in storage at the House of Commons.
Ms Robb said: "It does need to go somewhere - but how the town responds to the life of Margaret Thatcher has to be a town decision.
"It is exceedingly heavy at two tonnes in weight and eight feet tall."
Ms Morgan said: "Placing it anywhere in a prominent, public place in Grantham it could be open to a similar event occurring."
She said some of Baroness Thatcher's policies remain controversial: "I think if it is to go into a prominent place it is asking for trouble."
Paul Kelleher, 37, of Isleworth, west London, was found guilty of criminal damage after he attacked the £150,000 statue with a cricket bat and decapitated it with a metal bar.
He said the attack was a protest against the ills of the world's political system.
He was jailed for three months.