Lincolnshire floods blamed for rat infestation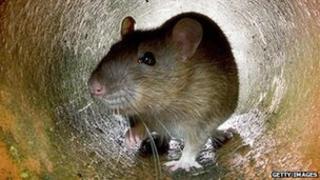 Rats trying to keep their feet dry are moving into urban areas creating a problem for residents.
Lincolnshire has seen a surge in rodents spotted near people's homes according to a pest controller.
Environmental health officers in the county said water-logged fields were forcing vermin into drier towns and villages looking for food and shelter.
Rat catcher Jeff Sullivan said he had seen an increase of 25 per cent in call-outs.
'Rising water table'
Experts said the wet weather made it difficult for the long-tailed rodents to find food, bringing them into closer contact with humans.
Mr Sullivan, from Pest Force, said rats were particularly problematic as they can chew through structures and cables.
He added: "The water table has risen. All the floods we had towards the end of last year has driven them out of the natural habitat and it's bringing them into domestic situations; under sheds and, more frighteningly, in housing."
Janet Williams, principal environmental health officer at North Kesteven District Council, said: "Rats don't like getting their feet wet.
"When the fields have been water logged they come in from the fields. They are looking for food, they are looking for somewhere to live."
She said residents should look out for holes in sheds and the distinctive round, black droppings.
Last year, duck feeders in Sleaford were warned not to leave food on river banks because it was attracting rats.
Ms Williams said the problem in the town had been brought under control.