Margaret Thatcher statue claim: Grantham Museum manager suspended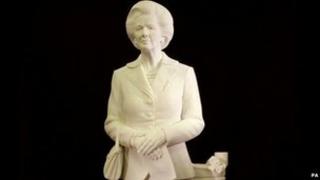 A museum manager has been suspended for "erroneously" claiming a statue of Margaret Thatcher had been offered to Grantham Museum in Lincolnshire.
Some people reacted negatively to the idea, including a Labour councillor who said the statue could be vandalised.
The claim by museum manager Jayne Robb was reported by several news organisations but a museum spokeswoman said it was "factually baseless".
Ms Robb has not so far been available for comment.
A museum spokeswoman said: "The comment about the statue being offered to the museum is factually baseless and we have not been in discussions with the owners of the statue to discuss it being offered to Grantham.
"As a result of the erroneous statement made on BBC Radio Lincolnshire by Jayne she has been suspended pending further enquiries."
She said the museum's board was due to meet to discuss the matter.
Statue decapitated
The white marble statue was unveiled by the former prime minister, who is originally from Grantham, in 2002.
It was decapitated with a metal pole at Guildhall Art Gallery by a theatre producer, but later restored and put in storage at the House of Commons.
Conservative councillor Ray Wooten said he would welcome the statue coming to the town.
"There was a Labour councillor who said the statue should be ground down and used to fill potholes up, which is absolutely disgraceful," he said.
"Anything that celebrates Mrs Thatcher's life and achievements would be most welcome in Grantham."
He has previously called for Grantham to do more to recognise its most famous daughter, who became Baroness Thatcher of Kesteven after leaving the House of Commons in 1992.
At the moment there is just a small plaque outside her father's former grocery shop and some exhibits inside Grantham Museum.